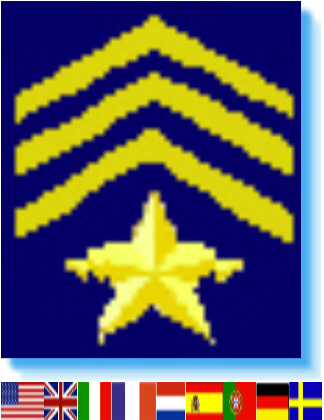 'Incident Commander Pro - Version 8'



- Mobile Command Post -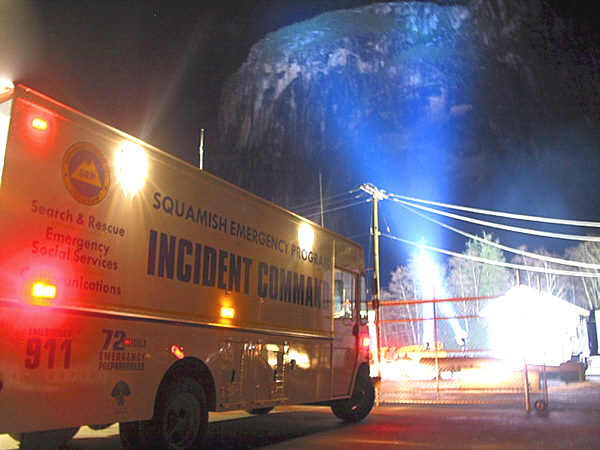 Mobile Command Post managing a
Night Rescue on the Squamish Chief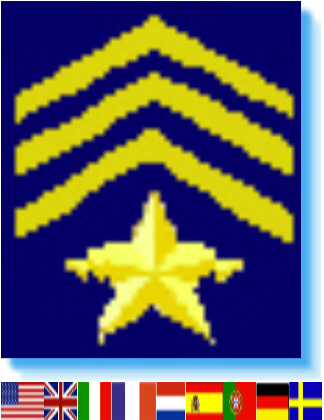 Mobile Command Posts equipped with 'Incident Commander Pro' provide a powerful and effective response for all types of missions. Command vehicles can be easily fitted to make full use of the unique capabilities of the 'Incident Commander Pro.

'Incident Commander Pro's versatile networking capability can be used to simultaneously perform all important mission management functions - both inside and outside the command post.

Mobile Command Post
running 'Incident Commander Pro'

Outside the Mobile Command Post:
Responding personnel can be Checked-In to the 'Incident Commander Pro' software using networked computers placed outside the command vehicle. This reduces crowding and distractions for the planning and communications staff working inside the command vehicle.

As the incident expands more computers can be added to the outside Check-In booth to register tens, hundreds - even thousands of personnel - including SAR, Response-Agency and convergent public - as they all respond to the mission.

The Checked-In personnel data is instantly available to the planning team sharing the networked information inside the command vehicle.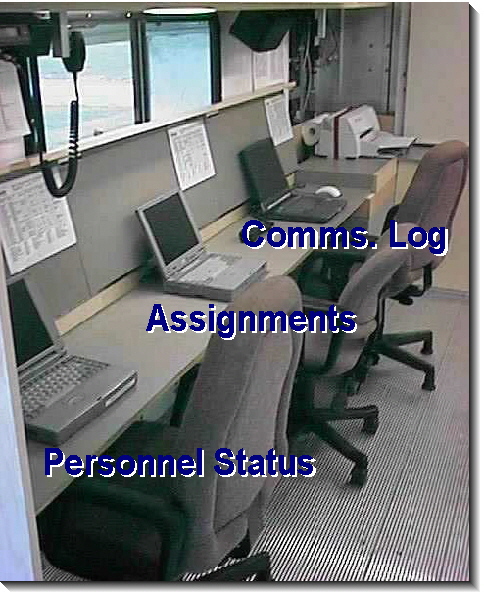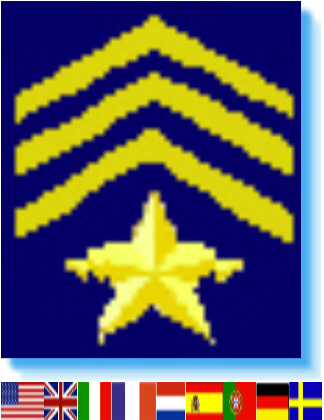 'Incident Commander' Workstations
Inside the Mobile Command Post:


Planning:
Inside the command vehicle the Planning staff manage all planning aspects of the mission - creating Mission Briefings, Area Planning, Assignments and the Operations Plan. Operations staff then monitor the mission using the real-time Mission Status Display, Resource Status Display and Mission Statistics..
'Incident Commander Pro' permits all of the Checked-In personnel to be quickly allocated to field assignments. To speed up Check-In 'Incident Commander Pro's Personnel and Organizations tables provide quickly-selectable records of responding Personnel and Organizations, for very rapid Check-In.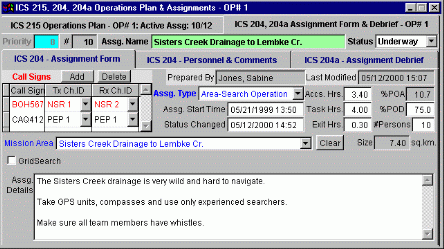 Assignment Form

Logistics:
Logistics staff track the current manpower status as responders are deployed and return from their assignments, using 'Incident Commander's Personnel Status Display. This displays continuous information on manpower status throughout the mission - who has been allocated to assignments, team call-signs, assignment status and how many personnel are allocated or available for assignments.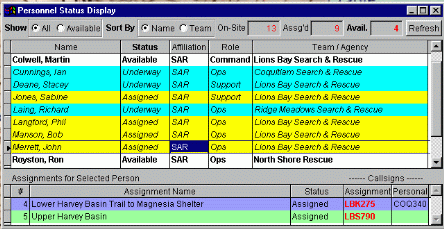 Personnel Status Display

Communications & Tracking:


All mission communications are recorded using 'Incident Commander Pro's advanced Communications Log.
The Communications Log also displays each assignment's Call Signs, Frequencies, Assignment Name and all the allocated Assignment Personnel.

'Track Commander' field team locations are automatically plotted on the Map Display


Important clues recorded in the Communications Log are automatically copied to the Assignment Debrief form and can be plotted on the Map Display.




Mutual-Aid Operations: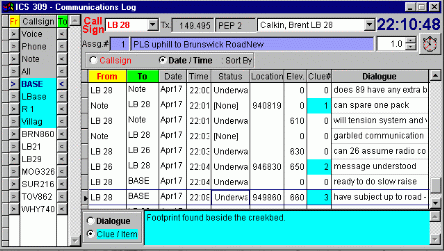 Communications Log

Multiple Mobile Command Post's:


During large-scale missions many organizations often work together to jointly respond to the rapidly expanding operation.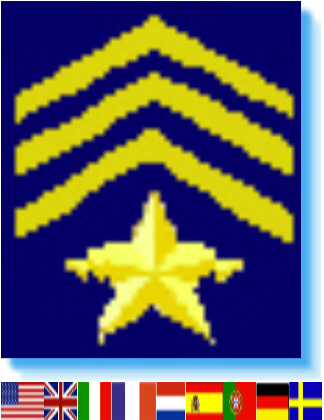 'Incident Commander Pro's powerful scalability permits an unlimited number of Mobile Command Post's to be networked together to jointly share and manage the emergent, expanding mission.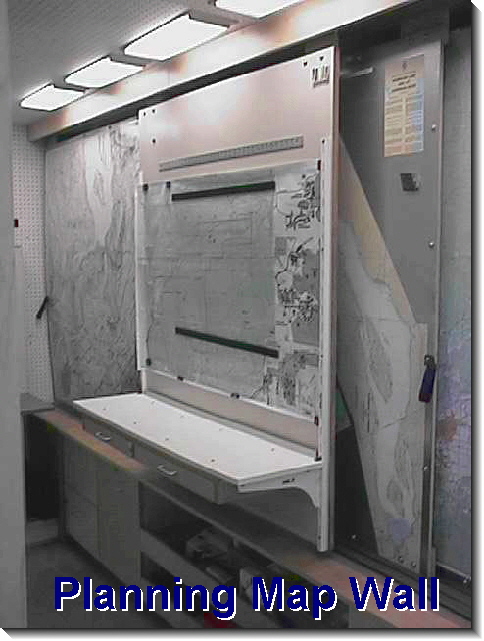 Planning Map Wall
Using multiple Mobile Command Post's permits all of the major command functions to be performed in separate vehicles - while providing each networked vehicle with a complete picture of the entire mission:

One Mobile Command Post can be dedicated to mission Communications, a second to mission Planning and a third to personnel Check-In.

In this way a major incident can be easily managed in a fully coordinated manner - that can be rapidly scaled-up as the mission expands.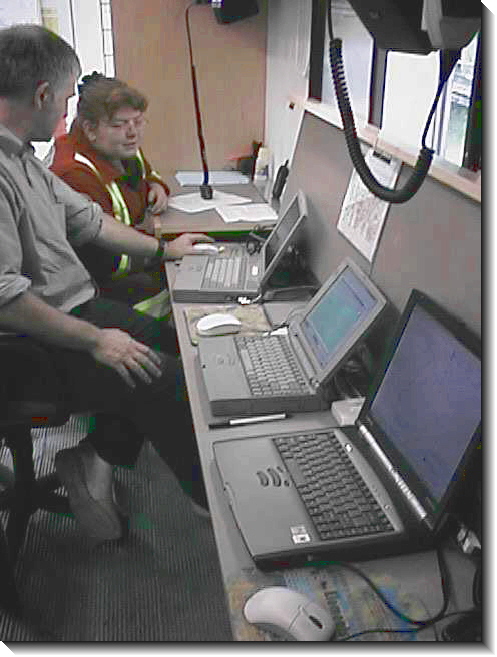 For more information please contact: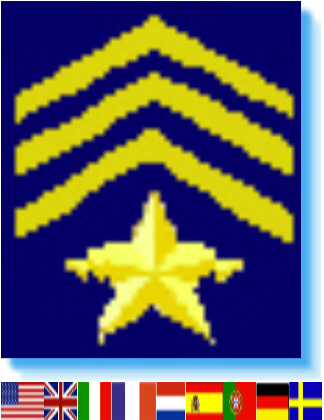 SAR Technology Inc.


Phone: (604) 921-2488

Fax (604) 921-2484

sartechnology@telus.net